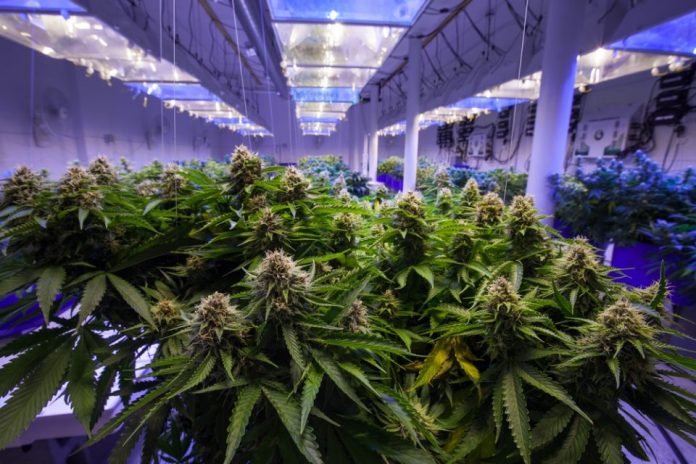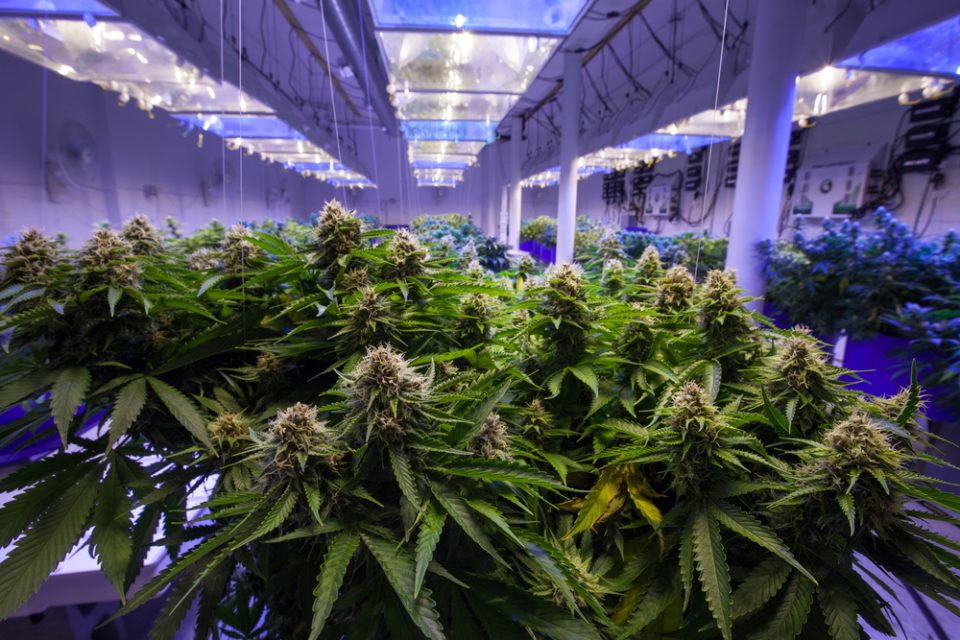 Cannabis companies are the profit-leading stocks in the U.S. & Canada today!
While marijuana articles flood the headlines, it's the lesser exposed science behind crop cultivation that represents hidden value.
Agricultural farming has made tremendous strides with the advent of technology. Techniques, monitoring and machinery have all undergone evolving sophistication.
The same holds true for cannabis cultivation as science and technology have reshaped the industry.
Right now, the most explosive profit opportunity is concentrated in one segment of the legalized pot industry: Agritech
It's in this area where One Groundbreaking Company has emerged as the front runner!
Smart Cannabis Corp. (OTC: SCNA)

Profit-minded investors can make a fortune in flourishing small-cap cannabis companies by recognizing success in the making.
SCNA fits squarely in the category of companies that have exploded onto the rising tide of the legal marijuana revolution.
The Company's proprietary cannabis greenhouse structures are gaining momentum on all fronts with expansion-minded, high-yield growers in hot pursuit of a product energized by the legalized cannabis movement.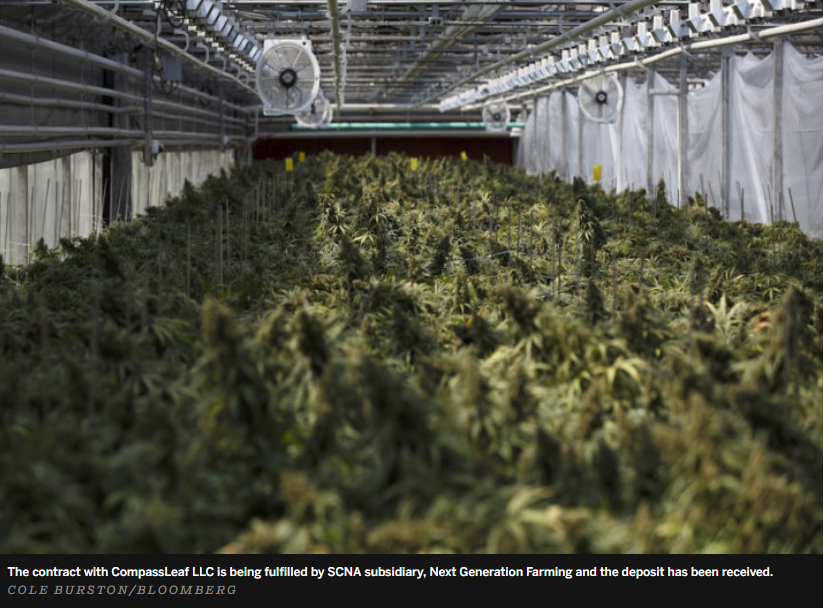 In this SCNA photo update from Bloomberg featured in the Vancouver Sun (active project shown), a major California grow operation experienced immediate and dramatic improvement with the automated greenhouse structures supplied by SCNA division, Next Generation Farming. (Photo Credit: BLOOMBERG)
The demand for cannabis-supported products is triggering record sales in a booming cannabis economy. SCNA's cannabis greenhouses, the latest innovation in automated Agritech, are exploding onto the scene at the forefront of the industry.
SCNA has developed a line of unique, fully-automated, and SMART App integrated greenhouses that are so highly efficient they are able to yield greater cannabis cultivation in a reduced space while simultaneously cutting costs.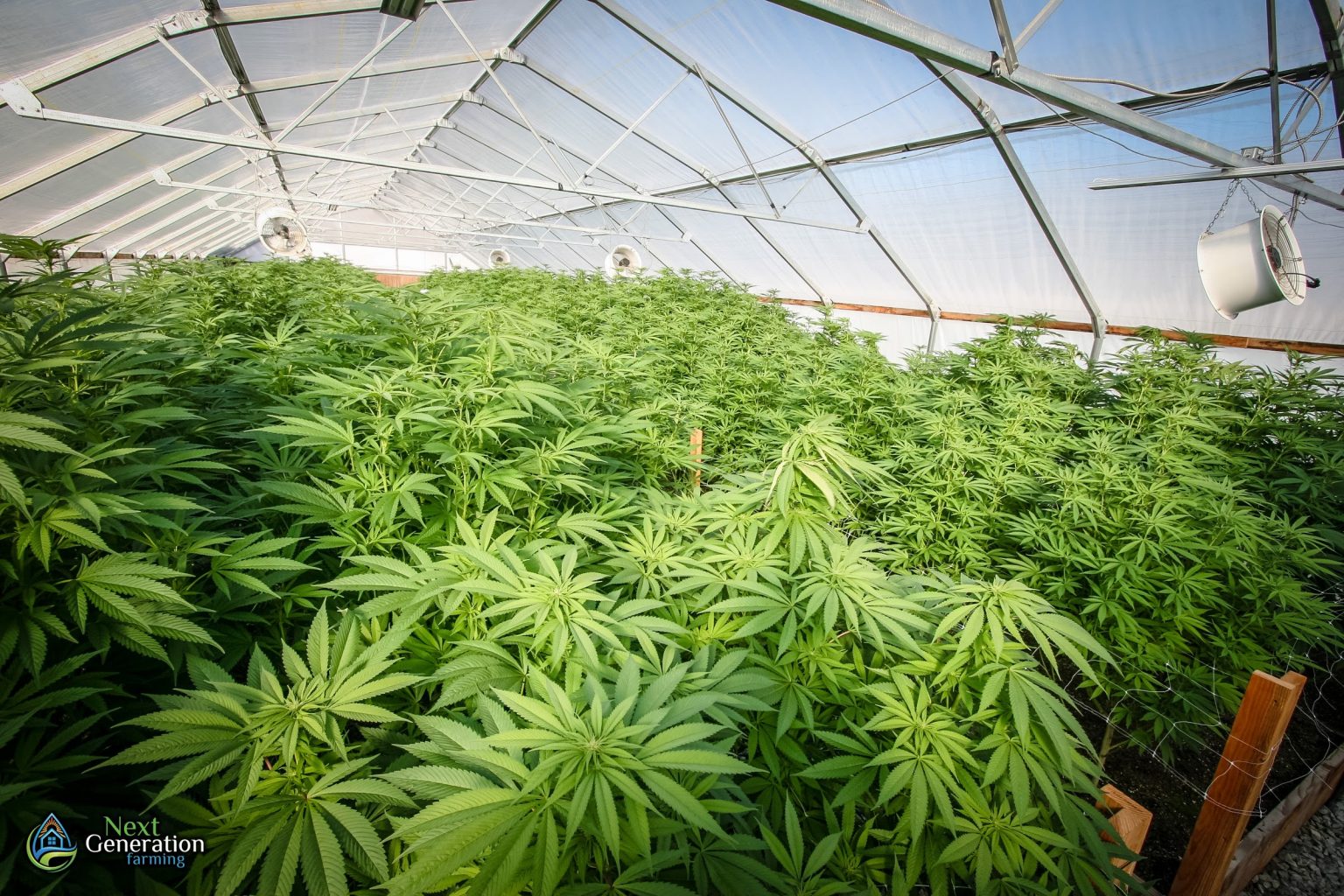 SCNA has already reshaped an entire industry by bursting onto the scene with their 2017 sales explosion where revenue increased 1,286% from the previous year. 
Any company making an impact so quickly boasts the greatest potential to bring the riches that go along with that type of success.
Cumulative sales are approaching $4M since reporting $225K in 2016.
SCNA currently has several million dollars in outstanding proposals as the company is seeing its business forecast model change to that of much larger sales with a resulting longer lead time.
SCNA has literally changed the landscape of the arena which they are well-positioned to dominate!
The Massive Sudden Interest In Agritech Investing
Agriculture technology, or Agritech, is becoming a key area of focus for cannabis investors globally. The wave of technologies cropping up on the farm and across the supply chain stands to revolutionize the cannabis industry, and investors are quickly scrambling for opportunities to gain a foothold within the sector.
The enormous growth wave of marijuana has spurred the booming intersection of Agritech and cannabis!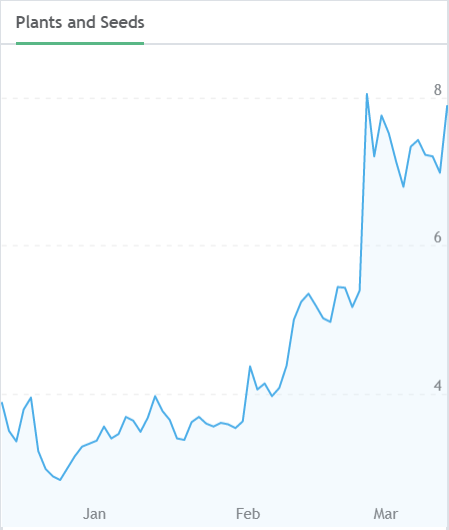 WILD RIDE: The index graph representing a basket of Agritech companies, usually very volatile, has been on a tear lately.
SCNA's Agritech breakthrough has quickly transformed cannabis cultivation! As an Agritech standout, SCNA has redefined the science behind their success.
Dispensaries across America have been running low on supplies because growers aren't cultivating marijuana fast enough to keep up with demand. Smart Cannabis Corp. is an answer to that need!
Smart Cannabis Corp. (SCNA) is one of the fastest growing and most innovative companies in the cannabis, Agritech, and organic farming markets. It is expected to soon be known as the "go-to" resource for growers everywhere!
SCNA's proprietary greenhouse designs possess the extraordinary ability to expand grow space while requiring less land space. This is exactly the magic formula that all grow operations strive for. SCNA's unique characteristic of this caliber has rapidly produced a volley of deals in the pipeline, which investors are recognizing as a launching pad for industry growth and enormous acceptance of their game-changing Agritech system.
INVESTORS SCRAMBLING FOR A PURE MARIJUANA AGRITECH PLAY!

WE ARE IN THE POT STOCK REVOLUTION, THE SONIC BOOM IS COMING!
The whirlwind of excitement associated with marijuana's rampant expansion has quickly flooded the media spotlight.
With marijuana IPO's, acquisitions, and CBD proliferation dominating the headlines, it's had the effect of masking the vital importance of a variety of industry players. This is most notable in the case of SCNA, thriving in a sector that can easily be overlooked.
Utilizing the powerful combination of highly efficient structural design to maximize cannabis cultivation in conjunction with their much-heralded remote monitoring technology, SCNA redefines the sweet spot of where investors should be allocating funds.
The company saw a staggering increase in revenue since launching in 2016 combined with multi-millions in project proposals and backlog for the current quarter this year.
SCNA experienced dramatic spikes in price and volume during the last 12 months indicating heavy accumulation of shares, a sign of even bigger things to come for this emerging leader in an industry with such high global demand that it is impossible to assign a value to the size of the market.
Hot pot stocks running to record breaking highs is a daily occurrence in issues not nearly as dynamic or established as SCNA.
SCNA's stellar designs will play an increasingly prominent role in maximizing yield per acre. Grow areas that are meticulously managed will propel a supply balance in any areas of patchy availability. The recent flurry of announced sales agreements underpins the hallmark of a burgeoning operation…and Wall Street loves it!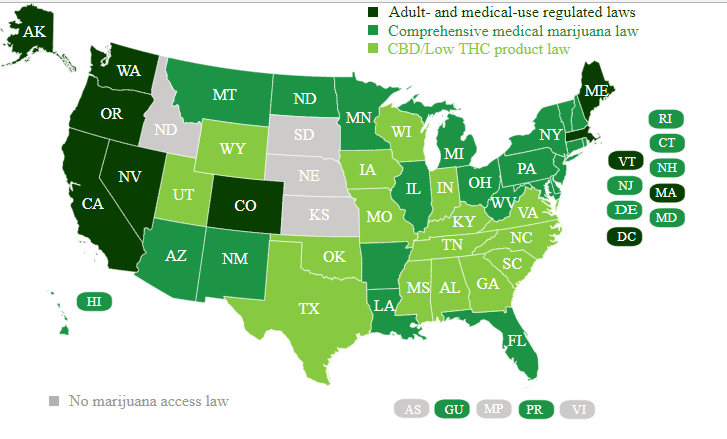 No further proof is needed that the sweeping marijuana revolution is just getting warmed up – and it's here to stay.
For the first time ever, the Food and Drug Administration (FDA) approved a marijuana-derived medication, Epidiolex, which is used to treat multiple forms of epilepsy, like Dravet syndrome, in children and infants, and a new tick-borne illness.
One high-profile doctor, a certified medical spokesperson for a major network, hailed the FDA's landmark approval as "a major medicinal development."
The medical field and the FDA have made great strides towards more research on cannabis-derived medicine given its documented effectiveness in treating many different illnesses. The scientific factors incorporated into growing cannabis are now carried all the way through to the pharmaceutical science phase of medicines based on marijuana compounds.
2 SCNA Operating Divisions Encircle Every Identifiable Profit Opportunity

Automated Greenhouse: A master-level achievement.
Specialized design protects the crop while ensuring the largest possible grow area within the covered space.
Agritech features are implemented through various control systems to automate the cultivation process and reduce overhead.
SCNA's integration of their SMART App mobile automation system provides for full monitoring and control of the facility from a remote location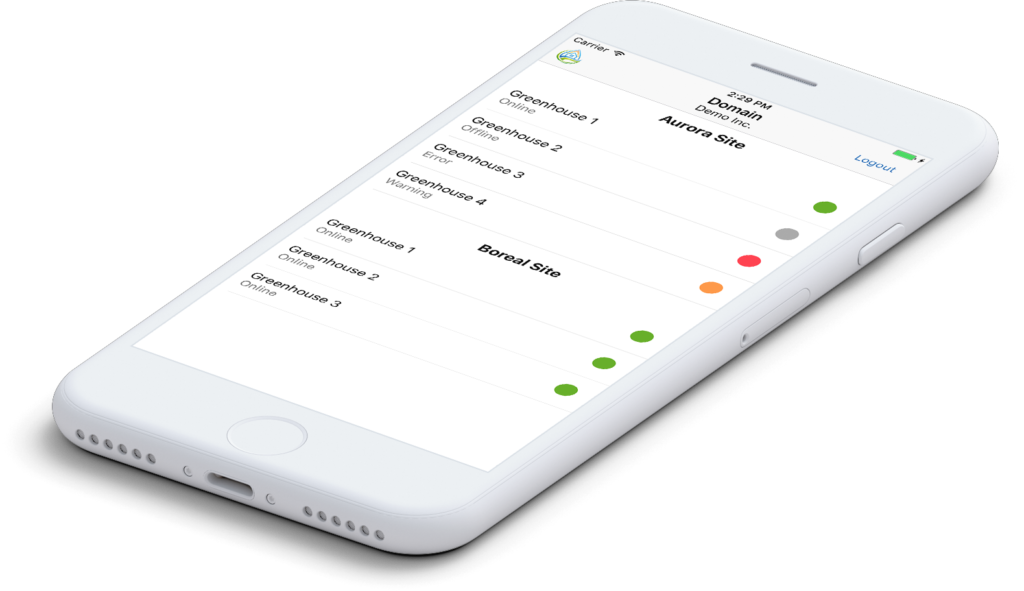 See a top level overview of all greenhouse operations.
View detailed information about the status of each greenhouse.
Manage alerts and get notifications of any condition events.
Results include: an automated cultivation process, reduced overhead, increases volume of yields exponentially, substantial reduction of grower's physical presence and staff's hours on-site.
State-of-the-art water filtration systems are launched within the automation process, the crowning achievement for an Agritech system revolutionizing the cultivation process entirely.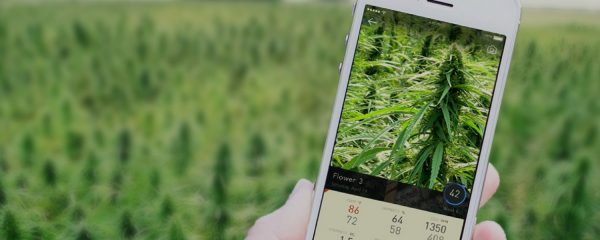 Inspect your greenhouse with camera access.
View a live feed of your crops directly from the Next Generation Farming
app on your phone or tablet. 
See your healthy crops growing from anywhere.

Solutions for cannabis industry entrepreneurs.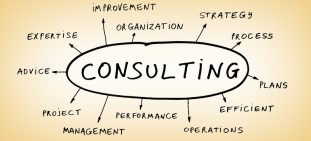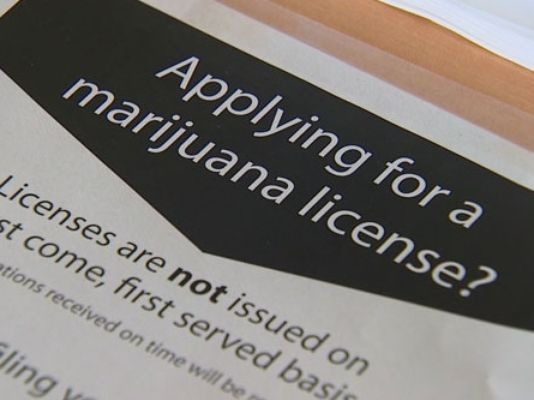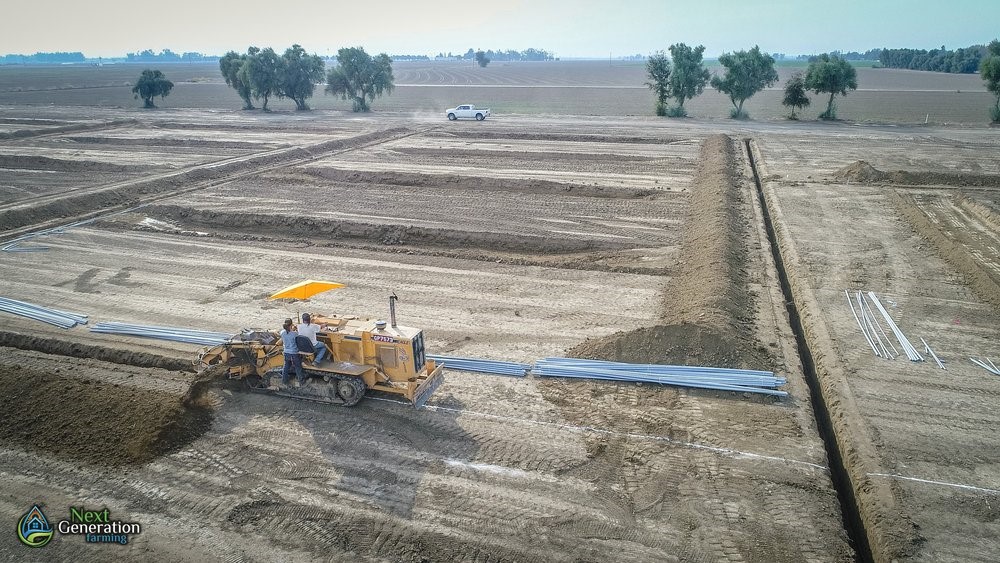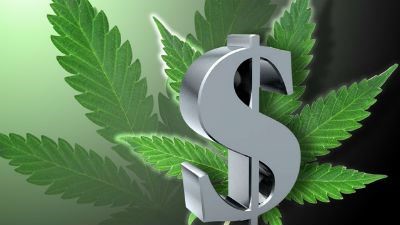 ON THE BRINK OF A BREAKOUT
It has never been more apparent than in the last year that omitting quality, undervalued, up-and-coming cannabis players from your investment selections is a sure sign of an unbalanced and underperforming portfolio.
SCNA is one of the best-orchestrated cannabis plays we've seen in years, and because their technological wizardry is truly emerging as a 'must-have', the rate of growth can be breathtaking.
SCNA, as evidenced by a chain of consummated deals, demonstrates a wealth of expertise in a vital area so heavily relied upon by an industry expanding globally at an unprecedented pace. Knowledgeable investors have been riding the explosive cannabis wave in the OTC. For those wishing to accumulate intelligently, SCNA is offering the perfect entry level right now. Certainly, recent news has the Company headed in the right direction.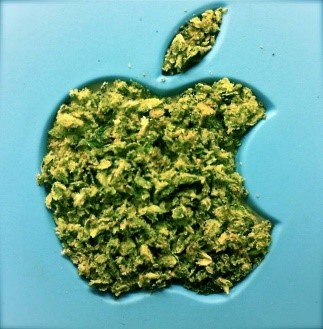 SCNA's NextGen Farm SMART App for Complete Remote Management Available in App Store for Apple iPhone and iPad (Source: Apple – App Store)
Uncovering Wall Street gems and profiting from special situations is all about timing. Learning of such opportunities in the earliest stages of growth vastly improves the leverage of your position. As always, the long-standing phrase, "research is your friend" is of paramount importance regardless of sector or market cap. As we've seen now more than ever, accumulating positions in streaking small-caps enables profit-minded investors to build real wealth. The key is to jump in before the stock gathers momentum, hits its stride, and never looks back.

UPDATE: BREAKING NEWS
| Source: Smart Cannabis Corp.
Smart Cannabis Corp. Subsidiary Signs Agreement to Build-Out Type 6 Cannabis Extraction Facility
SACRAMENTO, Calif., July 24, 2019 (GLOBE NEWSWIRE) — via OTC PR WIRE — Smart Cannabis Corp. (OTC: SCNA) has announced that its primary subsidiary, Next Generation Farming, has signed a deal to build-out a Type 6 cannabis extraction facility to operate sub-zero extraction methods with winterization features. Additionally, the company will be creating a software to setup and manage distribution on-site.
The extraction and distribution facility is in Northern California and will have an initial extraction capacity of up to 380 pounds per day with the capability of expanding to 1,180 pounds per day as the market dictates. The freezerless winterization system has capacity of taking 250 gallons of extracted material to -50 degrees Fahrenheit in under 3 hours. To start, this Next Generation Farming client will be set to recognize up to $20,000,000 in annual gross revenue in the year 2020 with the capacity to surpass $65,000,000 in annual gross revenue. Smart Cannabis CEO and President, John Taylor, stated, "We are very excited to start this project for our client and will send more detailed updates as permits are issued."
The California Manufactured Cannabis Safety Branch offers four main license types for cannabis manufacturers. Type 6 is for extraction using a mechanical method or non-volatile solvent.
Smart Cannabis (OTC PINK: SCNA) is a public equity corporation advancing the agriculture and cannabis industries and growing through acquisition, strategic alliances, and proprietary intellectual property. The company's wholly owned subsidiary, Next Generation Farming Inc., provides turnkey, automated, commercial greenhouses systems that efficiently improve yields and decrease water consumption for cultivators of organic food and cannabis crops.
The company websites are:
https://smartcannabis.com/nextgenfarming
Disclaimer: The Company relies upon the Safe Harbor Laws of 1933, 1934 and 1995 for all public news releases. The company may make forward-looking public statements concerning its expected future operations, performance and other developments. Such forward-looking statements are estimates that reflect the company's best judgment based upon current information. All investments involve risks and uncertainties, and there can be no assurance that other factors will not affect the accuracy of such forward-looking statements. It is impossible to identify all such factors. Factors which could cause actual results to differ materially from those estimated by the company include, but are not limited to, government regulation; managing and maintaining growth; the effect of adverse publicity; litigation; competition; and other factors which may be identified from time to time in the company's public announcements.
Contact:
Smart Cannabis Corp.
info@smartcannabis.com
(424) 732-7646
Inside Wall Street has entered into an agreement with Smart Cannabis Corp. to host this advertorial for a fee of $3,000 monthly starting July, 2018, for a period of five months. We own zero shares of SCNA at the time of publication. No trading of any profiled company shall occur at any time, meaning before, during or after the public dissemination of favorable information. All content has been reviewed and approved by Smart Cannabis Corp.