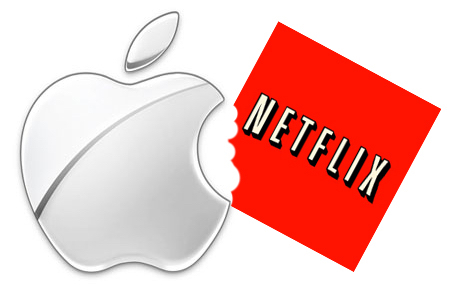 A huge cash horde, coupled with $200 billion in repatriated cash from recently passed tax reform, is a perfect opportunity for Apple to make a big purchase of a company such as Netflix.
American companies should get a huge shot in the arm from the new tax cut plan, but perhaps none more than Apple, Inc. (Nasdaq: AAPL). In fact, if Apple is ever going to make a big splash with a huge blockbuster buyout, some analysts are speculating it's now or never.
UBS estimates the rate cut from 35 to 21 percent will boost earnings for Standard & Poor's 500 index stocks by an average of 9 percent, and Apple is no exception. However, the most important part of tax reform for Apple and its shareholders is the repatriation tax holiday, which will allow companies with cash stored overseas to bring that cash back into the American economy at a reduced rate of 15.5 percent.

GBH Insights head of technology research Daniel Ives says Apple will opt to return roughly $200 billion of its overseas cash thanks to the holiday. Ives says he anticipates U.S. companies will spend roughly 70 percent of that cash on share buybacks and dividend hikes, while 30 percent of it will be invested into business improvements, such as mergers and acquisitions, debt paydowns, increased spending and more research.
"With Apple and [CEO Tim] Cook set to repatriate roughly $200 billion of cash based on our estimates, we believe accelerated buybacks, another dividend hike, and potentially larger [merger and acquisition] will be the trifecta of benefits shareholders could expect to see in 2018," Ives says.
Apple has historically preferred to develop its own internal businesses rather than go after huge buyout targets, but Ives says the repatriation holiday may create a one-time opportunity for Apple to make a huge deal to acquire a big company like Netflix (NFLX). Ives says there is a perfect window of opportunity for Apple to make a blockbuster move to combat Netflix, Walt Disney Co (DIS), Amazon.com (AMZN) and Facebook (FB), all of which are spending aggressively on streaming video content.
"For a company that historically is not a huge fan of larger M&A and focused on organic initiatives to broaden its golden consumer ecosystem, a larger M&A deal around buying Netflix, a movie studio, and/or another avenue of adding significant content would be a cultural shift although potentially necessarily if Apple wants to make a big bet on the streaming front," Ives says.
GBH has a "highly attractive" rating and $235 price target for Netflix and a "highly attractive" rating and $205 price target for Apple.