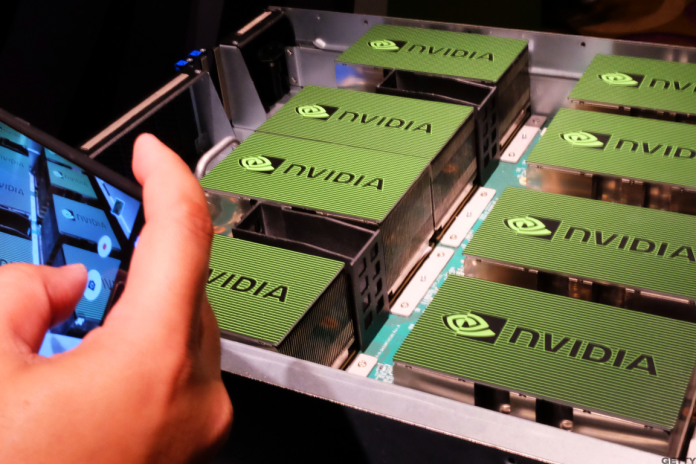 Artificial Intelligence and machine learning might be all the buzz when it comes to emerging technologies like self-driving cars and smart assistants, like Cortana or Siri. However, there's no more valuable a use for machine learning and AI, than in the healthcare field, where the average hospital generates some 50 petabytes of data annually but only a very small percentage of it is able to be analyzed fully or acted upon.
And when it comes to healthcare, that can literally be the difference between saving a life or losing one. NVIDIA has carved out a large percentage of the AI accelerator market with its powerful Tesla GPUs in a variety of applications, beyond just machine vision for self driving cars. Data center deployments for deep learning GPUs are NVIDIA's stranglehold currently, where Tesla enables a myriad of industrial applications that harness the power of AI in the cloud.
NVIDIA Tesla P100 GPU
GE stepped out in a joint release with NVIDIA in support of NVIDIA GPU Cloud (NGC) technology, powering the first medical devices for improved patient care, earlier diagnosis and two times faster processing of medical imaging data. At the 103rd annual meeting of the Radiological Society of North America (RSNA), GE announced the new NVIDIA GPU-powered Revolution Frontier CT, a CAT scan system that is "two times faster in imaging processing than its predecessor, due to its use of NVIDIA's AI computing platform.
The Revolution Frontier is FDA cleared and expected to deliver better clinical outcomes in liver lesion detection and kidney lesion characterization because of its speed – potentially reducing the need for unnecessary follow-ups, benefitting patients with compromised renal function and reducing non-interpretable scans with Gemstone Spectral Imaging Metal Artefact Reduction (GSI MAR)."
GE Healthcare Revolution CT System
That sounds like a lot of heavy lifting, and it is, but faster image processing and analysis can save lives. GE Healthcare and NVIDIA also announced the following:
NVIDIA Platform Powers 4D Ultrasound Visualization: 
The Vivid E95 4D Ultrasound System, on display at RSNA, uses NVIDIA GPUs to provide fast, accurate visualization and quantification while streamlining workflows across the cSound™ imaging platform. NVIDIA GPUs accelerate reconstruction and visualization of blood flow and improve 2D and 4D imaging for Echo Lab and Interventional deployments.
New GE Healthcare Applied Intelligence Powered by NVIDIA Technology: 
Modules of the new analytics platform will use NVIDIA GPUs, the NVIDIA ® CUDA ® parallel computing platform and the NVIDIA GPU Cloud container registry to accelerate the creation, deployment and consumption of deep learning algorithms in new healthcare analytic applications that will be seamlessly integrated into clinical and operational workflows and equipment.
So fortunately, as artificial intelligence continues to advance, and deep learning enables us to create amazing new services and devices like self-driving cars, we're also realizing the dawn of AI-assisted healthcare big data analytics. And more importantly, it provides actionable data, to improve quality of life and life expectancy. Could it be our robot overlords may just have our best interest at heart after all? If GE Healthcare and NVIDIA have anything to say about, perhaps they do.